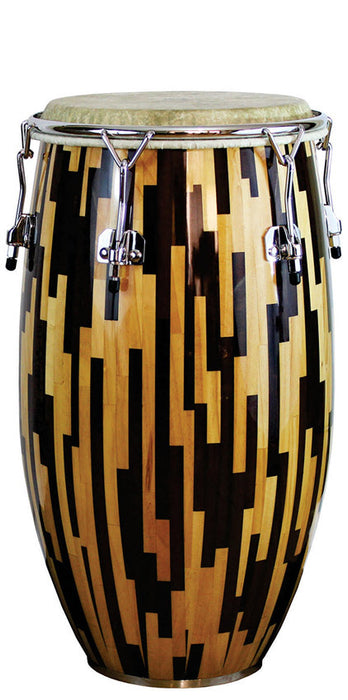 A Tempo Jaspe Dos Tonos Series 12-1/2" Tumba in Gloss Finish
Hand-made in Peru with Peruvian Walnut & Monterey Pine
Hand-Crafted from Peruvian Walnut and Monterey Pine, the new Jaspé Dos Tonos Congas are constructed with staves, formed from individually cut, solid blocks of wood and assembled into a striking Mosaic Jasper pattern.
Staves are used to create drums with smooth, round curves. Designed with a lower, slightly bigger belly, these drums have a captivating sound and look. Smooth lines and extra air volume create a prized combination of warmth and projection. The sound is also enhanced by durable, low-contact hardware, including minimalist lugs, which open up the sound of both the head and shell while keeping weight to a minimum.
Finished with Remo ® Tucked Fiberskyn® heads, these drums are top of the line in every way. Available in three sizes: 11" Quinto, 11 3/4" Conga, and 12 1/2" Tumba. Matching Bongos and Cajon also available!
Features:
Hand-crafted in Peru
Jaspé Dos Tonos design
Constructed from Peruvian Walnut and Monterey Pine
Low contact hardware and Remo Tucked Fiberskyn Head
Easy to tune and extremely durable
Head Size 12-1/2" Tumba
Orders typically take 1-3 business days to process and ship. Please note that not all items are held in stock at Crescendo Music's retail store. When items are out of stock, they will be dispatched no more than 10 days after ordering. For urgent orders please contact us first to confirm stock availability.