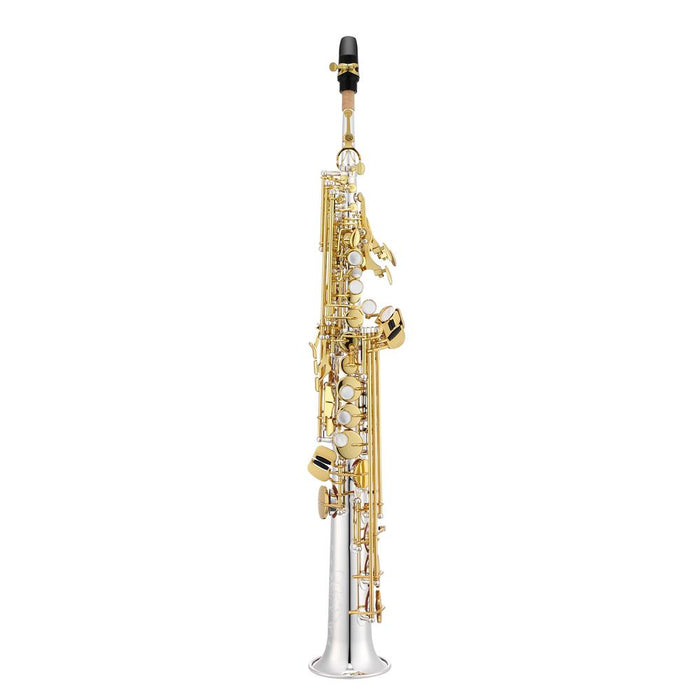 Jupiter JSS1100SGQ Soprano Saxophone in B♭
Back To School Sale
The JSS1100SG silver-plated soprano saxophone is a perfect example of the classic hand-crafted design coupled with modern technology. The JSS1100SG is the perfect soprano saxophone to round out the saxophonist's arsenal.    
Features
Silver-Plated Brass Body is made from the highest quality brass and finished with a bright silver-plate ensuring fine playability and tonal brilliance

Metal Tone Boosters add brightness to the instrument sound and assist in a tighter key seal
Specs
Key of Bb
Silver-Plated Brass Body
Silver-Plated, Sona-Pure Straight and Curved Necks
High G
Tilting G#-Bb Table Keys
Metal Tone Boosters
Blued Steel Springs
With Wood-Frame Case (JSS1100SG) or With Backpack Softcase (JSS1100SGQ)
Orders typically take 1-3 business days to process and ship. When items are out of stock, they will be dispatched no more than 10 days after ordering. For urgent orders please contact us first to confirm stock availability.