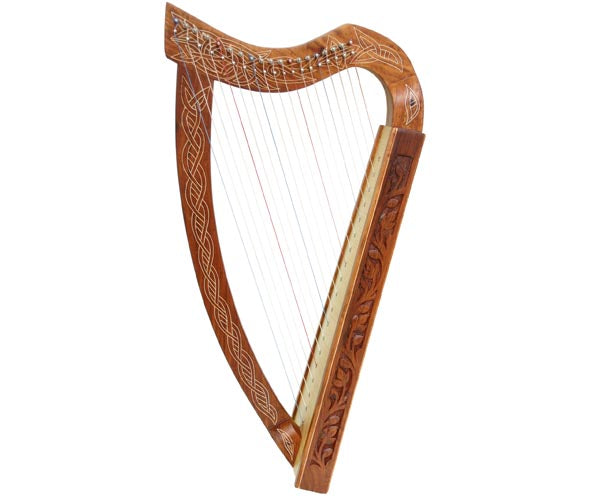 Leaning Pixie Harp 19 String Carved Rosewood with Bag
Please contact us for stock availability
19 string Pixie Harp. Floral carved rosewood, solid rosewood frame and soundboard. Leaning model. No sharpening levers.
The next level up from the Baby Harp is the beautiful Pixie harp. The wider range afforded by the extra strings allows for a larger repertoire and the bigger size of the instrument gives a louder projection and tone. Leaning model is not free-standing.
19 strings - 2.5 octaves

29" tall

Perfect for beginner songs and exercises

Note range of F3 to C6

Supplied in soft gig bag

No sharpening levers

'Leaning' model
Tuning method- Celtic harps are tuned Diatonically, i.e. to a Major Scale.
Starting at the bass end, the strings are tuned in the following fashion:
C-D-E-F-G-A-B-C-D-E etc
After tuning all the C notes should be on the RED strings and all of the F notes on the BLUE strings.
Orders typically take 1-3 business days to process and ship. When items are out of stock, they will be dispatched no more than 10 days after ordering. For urgent orders please contact us first to confirm stock availability.