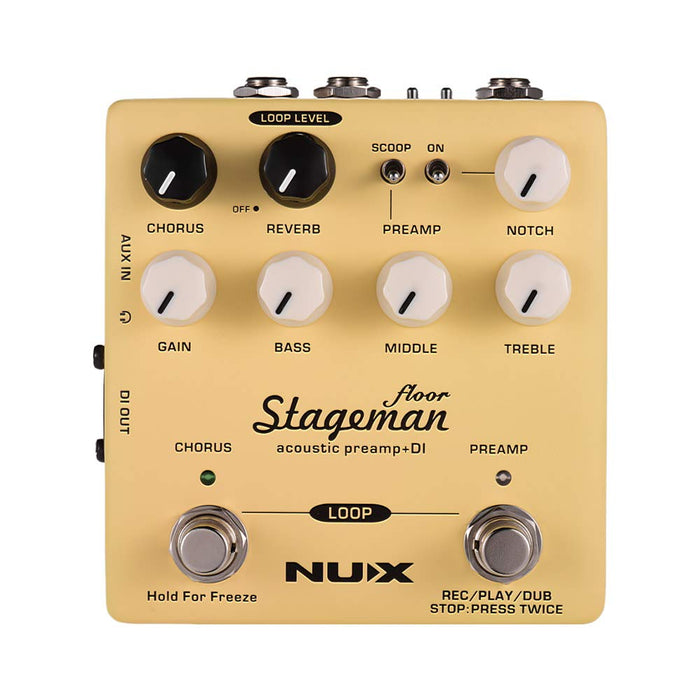 Special Order Only - Please contact for availability.
NUX Stageman Acoustic Amplifiers Natural Sound is now in a Pocket Size
 
Improved Clarity
NUX Stageman Floor is an analog acoustic preamp with digital effects and looper function. Preamp featured with a highly sensitive 3-band EQ with MID scoop toggle switch, adjustable notch filter, and input gain control. And it provides a ginormous headroom which delivers the sound all natural.
High-Quality Effects, Easy Control
It equipped with Chorus and Reverb effects and, each effect designed to control by only one-knob, when you tweak the chorus or reverb knob from 0 to 10 it adjusts multiple parameters with a perfect balance. And the chorus switch has another function, while you push and hold, it will activate the freeze effect until you release it. 
Notch Filter
Acoustic guitars can be easily affected by the volume level on stage and it can cause signal feedback, which makes a lot of noise. Using the notch filter on the Stageman Floor can help you to cut the resonating frequency and makes it more comfortable to play on stage.

But remember that some other stage conditions also can cause the signal feedback, please also check the guitar and speaker (or monitor) position, guitar mic(s).And make sure to set everything with the correct way to lower the chance of causing the signal feedback.
And usually a guitar pick or your fingernail causes some high-frequency noise, you can use the Notch Filter and get a much better clean sound.
Versatile Preamp
There are Gain and 3-band EQ controls on the pedal. You can adjust the signal power by using the Gain knob. It has Bass, Middle and Treble controls, depending on the amplifier/speaker characteristic, playing style and acoustic guitar's body type you can tune your sound the way you like.
You can optimize the preamp input according to your guitar pickup type, you can set Piezo or Magnetic for better signal processing. And it has the FX Loop input, you can use a TRS cable and connect any effect unit to Stageman Floor. Its also the best choice for various acoustic instruments like the violin, mandolin, banjo and many more.
Record, Jam, Create!
 
P
ush the both Chorus and Preamp footswitches, Stageman Floor turns into a looper pedal with 60 seconds recording capacity and unlimited overdubs. It's ready-to-jam at anytime, anywhere!

In Looper mode:
Preamp Footswitch controls the looper functions; Record/Play/Stop and Overdub
Reverb Knob controls the Loop volume level.
Connections
Stageman Floor has all the useful input/output connections.
Features:
Input Gain Control
3-band EQ (Bass, Middle and Treble)
Middle Frequency Scoop Toggle
Notch Filter ON/OFF Toggle Switch with Precision Adjustment Control
Effects: Chorus, Reverb and Freeze
Input Optimization Toggle for Piezo or Magnetic Pickups
60 Seconds Looper
XLR DI Output
1/4" TRS Send / Return Inputs
1/8" Aux-in
1/8" Headphones Out
USB Input for firmware updates (Micro B USB 2.0)
Orders typically take 1-3 business days to process and ship. When items are out of stock, they will be dispatched no more than 10 days after ordering. For urgent orders please contact us first to confirm stock availability.