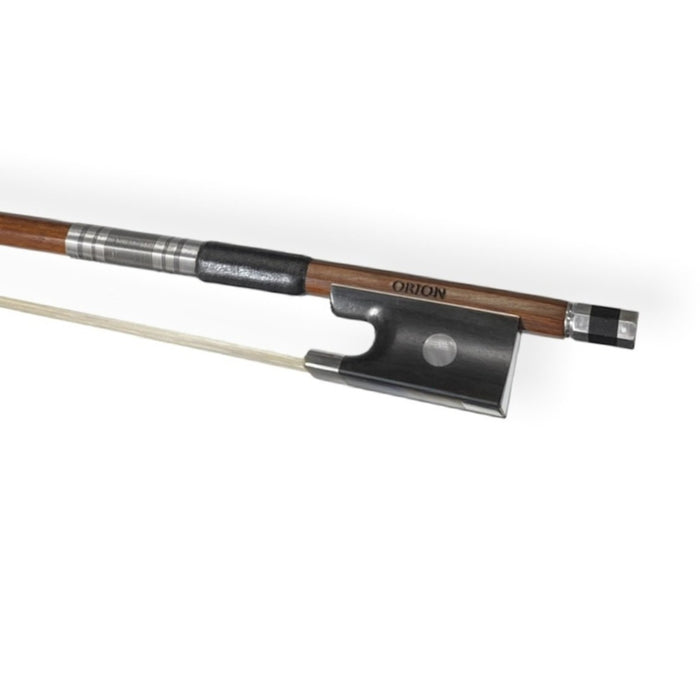 Violin Bow Orion Graded Pernambuco Silver Mount
ORION Bow and String instrument are crafted in an award-winning workshop, making high quality beginner to advanced musician's instrument. The 50 years of woodworking and luthiery skills represent the current ORION instrument and bow range. With guidance and assistance from Liu Yang, the master bow maker himself, the bows are meticulously crafted in accordance to his standards. Liu is currently only producing professional level violins, cellos, and bows.
This violin bow uses select seasoned Pernambuco for the stick. Only a high quality stick will be chosen and crafted. Installed with a quality, unbleached mongolian horse hair. The frog is made from pure ebony & is silver mounted with a mother of pearl Parisian eye. At length 745m. Offers great vibrational properties and a balanced stiffness in the stick for playing. 
Features:
selected high grade Pernambuco wood



silver pure white windings
quality unbleached mongolian horse hair
ebony frog
silver mount and screw
cowhide leather wrap
fine craft for great balance and weight distribution
precise arch with good bounce and action
Please contact us for bow testing