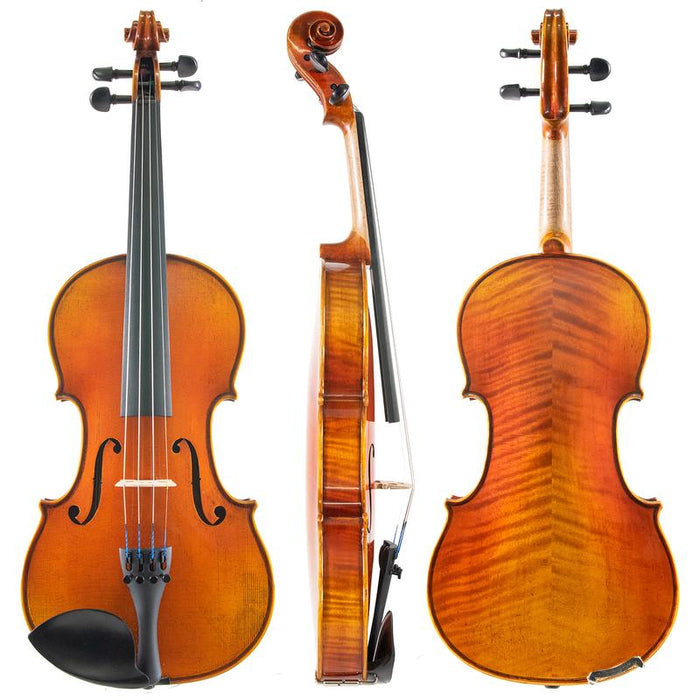 FREE SHIPPING WORLDWIDE -  free shipping will automatically apply at checkout
Established by Violins Australia, they developed their violins with Nanjing Pty Ltd, an experienced strings maker workshop in China that have been providing a range of high-quality instruments for many years. VA developed their range wanting to have models with contrasting sound profiles and variance. One of the ranges the team at Nanjing produced is the Schroeder model, named after the German-American Cellist Alwin Schroeder. The models are bright and clear sounding with golden varnishes to emphasize the brilliance of the sound. These instruments are beautifully hand crafted in China and professionally set up by our luthiers in our Sydney workshop.
The Schroeder 200 violin has a bright, sweet tone with good projection. When compared to the Schroeder 50J or Schroeder 100, the Schroeder 200 offers better projection and more tonal complexity, which are qualities that most players look for at an intermediate level.  In terms of AMEB or Trinity levels we believe it is most suitable for advancing players at a 4th or 5th grade standard.


The Schroeder 200 has a beautiful red-brown varnish with light antiquing and golden highlights. It is usually fitted with Pirastro Violino strings which balance out the brightness, adding more warmth and complexity to the sound. If Violino strings aren't in-stock, then a similar alternative such as Corelli Cantiga strings will be used. 


Instrument Details: 
 
+ Spruce top
+ Maple back, sides and scroll
+ Ebony nut, fingerboard and pegs
+ Inlaid purfling
+ Tailpiece with in-built fine tune adjusters
+ Pirastro Violino (or Corelli Cantiga strings)
+ Available sizes: 1/4, 1/2, 3/4, 4/4