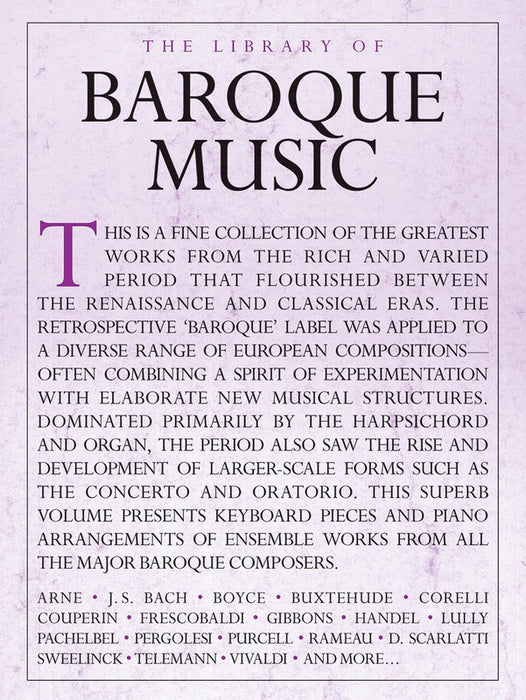 The Library of Baroque Music - Piano Solo
The Library Of Baroque Music is an enormously expansive collection of the greatest works produced during that prolific period that flourished between the Renaissance and Classical eras.
All arranged for solo Piano, this volume features works drawn from all the major Baroque composers, including some of the greatest pieces of music ever composed.  The progression and development of music during the Baroque period can be heard in these pieces, providing you not only with a window into musical history, but also many exciting additions to your repertoire.
The retrospective ' Baroque ' label was applied to a diverse range of European compositions, often combining a spirit of experimentation with elaborate new musical structures. Dominated primarily by the Harpsichord and Organ, this period also saw the rise and development of larger-scale forms such as the concerto and oratorio. 
This superb volume is comprised of Keyboard and ensemble works from all the major Baroque composers, arranged for Piano.
Featuring Arne, Boyce, Buxtehude, Corelli, Couperin, Gibbons, Lully, Pachelbel, Purcell, Rameau and Vivaldi, the composers here include some of the most respected and revered figures in musical history.